Posted by: ACA Sec
Douglas Jackson Turner DFC -
24/07/08
07:54 PM
It is with great sadness the death of Douglas Jackson Turner, DFC is announced. Doug, as he was known to his wide circle of friends, died peacefully on 8th May 2008 at Bridgend a few weeks short of his 91st birthday.
He was born at Wellingborough, son of a senior railway official, and attended Wellingborough Grammar School. After school, he entered the railways for a while before joining the Essex Constabulary. He remained a policeman until volunteering for aircrew, being accepted to train as a pilot, in 1941. He learned to fly in the USA and on return to the UK, joined No 235 Beaufighter Squadron where he met his navigator and lifelong friend, Des Curtis DFC. The squadron operated from Leuchars flying anti-shipping strikes at very low altitudes off the Norwegian Coast on an aircraft, which Doug said, would not fly on one engine and maintain height.
The following represents the memories of the wartime association between Doug and Des Curtis, DFC, contributed by Des.
On the 1st April 1943 Doug and Curtis were posted, as founder members of No. 618 Squadron, to RAF Skitten, near Wick. The squadron's objective was to carry out a low level attack, in daylight, on the German pocket battleship, 'Tirpitz' in its lair in Northern Norway. They would fly mosquito aircraft carrying two bouncing bombs, code named 'Highball'. This was a similar but smaller version of the weapon used by No 617, Dambuster Squadron. They practised on an old French battleship moored in Loch Striven.
Problems with the weapon and the distance to the target within the Arctic Circle resulted in the squadron being temporarily disbanded. Turner and Curtis and three other crews were posted to set up No 618 Squadron, Special Detachment, at RAF Predannack on the Lizard Peninsular. Uniquely equipped with another variant of the Mosquito called Tse-tse which was armed with the Moulin's 57 mm 6 pounder artillery piece. Their task was to catch U boats as they were leaving or entering their bases on the French Atlantic Coast.
March 1944 was a particularly busy and successful period. On the 10th they destroyed two trawlers believed to be acting as markers for the U boats. Next day his was one of six aircraft which attacked a U boat which was protected by a destroyer and JU 88 aircraft. In a short engagement, the U boat was sunk, the destroyer damaged and three German aircraft shot down. On the 21st they participated in the destruction of a tanker. Four days later Turner led a flight of six Mosquitos which detected a U boat and three naval escorts close to their base. The accuracy of Doug's firing caused the U boat, U 976 to founder. On the 27th he, with seven other Mosquitos were back in the same area where they located two U boats escorted by nine warships. In a fierce encounter, in which shore batteries joined, U 960 was damaged. Six of the mosquitos were hit but all returned to base.
In April 1944, Turner and Curtis received the immediate award of the DFC .
The day after D Day, Doug was leading two Tse-tse aircraft on patrol to protect the invasion craft when he saw a U boat surfacing ahead. The gun on the other aircraft jammed but Turner succeeded in damaging the U boat, causing it to return to Lorient for repairs.
They also played a game. When the active runway at Predannack became that being extended by, mainly Irish labourers, who were earning more than many of the aircrew the practice was to delay lift off from the runway as long as possible so that the running, scattering labourers, earned their 'danger' money.
They flew 72 operations together although Doug did an extra one with another navigator which he freely admitted, he didn't enjoy.
Further fame was to come to them both later in July 1977 when the exploit concerning the attack on U 976 was recorded on the front page of the Victor Comic.
After the war Doug continued to fly, this time from St David's Pembrokeshire. On finishing his flying career, he became mine host at the Cambrian Hotel in Solva, where he was a very well respected landlord and an active member of the West Wales Aircrew Association. Doug loved Pembrokeshire spending the last sixty years of his life there.
Towards the end of his life and despite increasing ill health, he remained amazing good humoured and was wonderful company. He would also have been the first to acknowledge all the help given to him by our welfare officer, Ron Pullen and our secretary, Norman Spence.
Doug has now slipped the surly bonds but he has left behind the memories of a truly good, very brave man, greatly missed by his family and friends.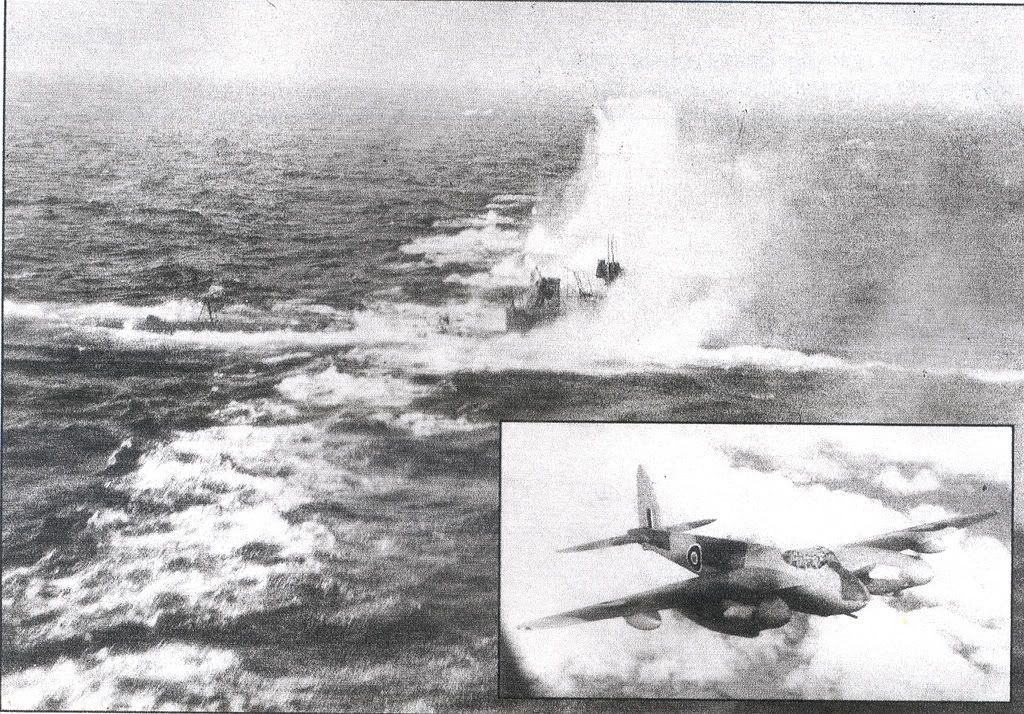 [img]